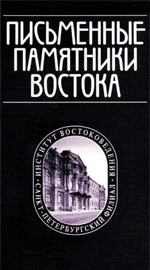 Editorial Board || From Editorial Board || Authors' Guidelines
Editorial Board
Prof I.F. Popova (Chief Editor), Dr T.A. Pang (Deputy Chief Editor), Dr S.M. Anikeeva, Prof B.V. Bazarov, N.O. Chekhovich, Acad. A.P. Derevyanko, Dr Y.A. Ioannesyan, Dr A.I. Kolesnikov, Prof A.B. Kudelin, Dr K.G. Maranjian, Acad. V.S. Myasnikov, Prof Ne Hung-yin (China), Prof A.I. Osmanov, Dr Val.V. Polosin, Dr S.M. Prozorov, Prof N. Sims-Williams (UK), Prof Takata Tokio (Japan), Dr E.V. Tanonova (secretary), Acad. S.L. Tikhvinsky, Prof V.I. Vasiliev, O.V. Vasilieva, Dr M.I. Vorobyova-Desyatovskaya, Prof H. Walravens (Germany), Dr N.S. Yakhontova.
From Editorial Board
On the initiative of the Saint-Petersburg Branch of the Institute of Oriental Studies, Russian Academy of Sciences, with the support of the Historical-Philological Department and Scientific and Publishing Council of the RAS resumes the publication of Written Monuments of the Orient. From now on, this annual periodical (10 issues have been published since 1968) on theoretical and practical problems concerning the studies on the written heritage of the East will be a biannual Journal.
The St. Petersburg Branch of the Institute of Oriental Studies keeps one of the world's richest collections of Oriental manuscripts and old printed books, and its main task is to describe and publish written monuments of the East supplying them with proper academic apparatus. Its history goes back to 1818, when the Asiatic Museum was organized in St. Petersburg. So far the scholars of the Institute have published over 40 volumes of scientific descriptions of Arabic, Persian, Chinese, Korean, Kurdish, Japanese, Mongolian, Manchu, Afghan and other manuscript collections. These include both title lists and detailed scientific descriptions which contain rich material for further textological work. The researchers of the Institute are the authors of the first issue of Written Monuments of the Orient. The first Russian scholarly periodical on Oriental studies appeared 155 years ago. It was the Mélanges Asiatiques published by the Asiatic Museum in French. Later the Asiatic Museum—Institute of Oriental Studies—issued Notes of the Orientalists' Collegium, Notes of the Institute of Oriental Studies, Academic Notes, Short Notes, etc. The new Journal is a continuation of Russian, particularly St. Petersburg/Leningrad, tradition of classical Oriental studies.
The main topics of the Journal are Publications, Research Works, Book Culture, Collections and Archives, Restoration and Storage, Academic Life, Reviews. The Journal plans to publish monuments of Oriental written culture from various manuscript collections, libraries, archives, museums at Moscow, St. Petersburg and other Russian cities, source researches on history, literature, religion, culture, ethnography of the Orient from ancient times till our days. The Editorial Board is ready to accept articles on Oriental textology, information about various written materials, manuscript collections and depositories, problems of conservation and restoration. We consider important the information on current academic life and work of the institutions that deal with the study of written monuments of the East, on scientific conferences, symposia, dissertations, research plans and field expeditions. Much attention will be paid to reviews of new Russian and foreign publications.
***
Nowadays the Eastern countries—Japan, China, Korea, Iran, Turkey, India, Israel, the Arab nations—pay great attention to modern methods of preservation and description of cultural heritage. We appreciate the formation of large manuscript depositories in the Asian countries and are ready to publish any information concerning these collections. We consider exchange of the database experience and the use of modern technologies for the studies of Oriental written heritage to be very useful.
The Editorial Board hopes that Russian colleagues will actively participate in the publication of the Journal, as well as in renewing and strengthening links between the CIS countries. It also invites our foreign colleagues to this academic cooperation. Articles should be submitted in English, French, or German.
Thousands of unique manuscripts and written monuments wait for their researchers. We hope that, with joint forces, we shall turn our Journal into a reliable guide in the great and vast Ocean of Scriptures of the peoples of Asia.
Authors' Guidelines
The Editorial Board of Written Monuments of the Orient invites both Russian and foreign scholars to submit papers which reflect the results of their study of the sources on history, literature, religion, culture and ethnology of the Asian region. They may contain the publication or/and translation of texts of written monuments from both Russian and foreign collections of manuscripts, libraries, archives and museums.
The editors will accept papers in both Russian and foreign languages (English, German, French), not exceeding 120,000 symbols, or reviews, letters and notes not exceeding 20,000 symbols.
Papers should be sent as a *.doc or *.rtf file.
All the special symbols should be available in MS Word for Windows 2000 (Windows XP).
Papers in Russian should be accompanied by a summary in English, while those in English, German and French should have a summary in Russian.
All quotations should be carefully checked. Notes are to be on the relevant pages, their numbering consecutive. Bibliographical notes should be formatted as follows: author's surname and initials, the title of the paper, its place and date of publication, pages. In case of the reference to a paper contained in a periodical, the latter's full title, year of publication, volume, issue or number, and pages should be indicated.
In case of the reference to a web-page its full URL should be given. If a paper is referred to repeatedly, its title should be abridged. When abridged titles are used – whether of written sources, periodicals and series, organizations, funds or institutions, etc. – the list of abbreviations should be added to the paper.
Figures should be sent separately as a *.tif, *.jpg, *.psd or *.eps files (of which the resolution should not be less than 300 dpi for full-size pictures). A list of the pictures and their titles (with references to the location of the original, cipher of the manuscript and the pagination, if necessary) should be added as a separate file.
Papers should be signed by the author and contain his/her personal information: full name, degree, affiliation and title, post-address and telephone numbers (home, office) and e-mail address.
Archival and museum materials can be published only with the permission of their possessors (organizations, libraries and private persons).
The Editorial Board reserves the right to edit papers.
Papers are not to be returned or reviewed.
No papers may be reproduced without permission in writing from the Editorial Board.
All questions or suggestions should be addressed to
Dvortsovaya emb., 18
Saint Petersburg, Russia, 191186
Tel.: (812) 315-87-28. Fax: (812) 312-14-65
e-mail: ppv@orientalstudies.ru