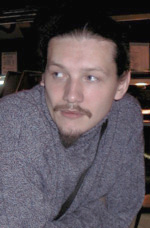 EDUCATION

2006—present PhD student (Islamic Studies), Department of Near Eastern Studies, the University of Michigan, USA

2001—2004 Post-graduate program in Islamic Studies, the St Petersburg Branch of the Institute of Oriental Studies, the Russian Academy of Sciences

1999—2001 St Petersburg State University, the Faculty of Oriental Studies, two years of the History of the Arabic Countries program (concurrently with studies at the Faculty of Sociology)

1998—2001 St Petersburg State University, the Faculty of Sociology, (B.A./M.A.) in Sociology; Diploma work was on the role of scholars ('ulama') in the life of the Islamic society

1995—1998 The Baltic State Technical University, the Faculty of Humanities, St Petersburg, three years in the Political Science program (in 1998, transferred to St Petersburg State University, the Faculty of Sociology)

MAJOR FIELDS AND INTERESTS OF RESEARCH:

Historiography of "classical" Islam; Islamic biographic and hagiographic literature; Hadith scholarship; medieval Islamic epistemology and argumentative strategies; the Hanbali madhhab of Sunni Islam and its relations with other Islamic schools of thought (especially Sufism); digital databases on Islam and the use of IT as analytical tools in studies of medieval Islamic sources; theory and practice of medieval and contemporary Islamic preaching.

ADMINISTRATIVE DUTIES:

November 2004— July 2006 Junior Researcher, the Department of Near Eastern Studies, The St. Petersburg Branch of the Institute of Oriental Studies, The Russian Academy of Sciences

October 2003—November 2004 Senior Research Assistant, the St Petersburg Branch of the Institute of Oriental Studies, The Russian Academy of Sciences

June 2003— July 2006 Web-managing of the official site of the St Petersburg Branch of the Institute of Oriental Studies, The Russian Academy of Sciences (design, structure, support, content, newsletter)

June 2003— July 2006 Web- and content-managing of the site "Islamic Studies at the St Petersburg Branch of the Institute of Oriental Studies, the Russian Academy of Sciences"; design, structure, support, content, newsletter [in cooperation with and under supervision of Dr Stanislav M. Prozorov]; from September 2005 - http://islamica.orientalstudies.ru.

AWARDS OR HONORS RECEIVED:

Honorary award (as a premium) for contribution into the Institute's life (Web-site development), the St Petersburg Branch of the Institute of Oriental Studies, the Russian Academy of Sciences 2005.

Honorary award (as a premium) for the best articles and papers by young scholars, the St Petersburg Branch of the Institute of Oriental Studies, the Russian Academy of Sciences 2004.

Honorary award (as a premium) for contribution into the Institute's life, the St Petersburg Branch of the Institute of Oriental Studies, the Russian Academy of Sciences 2004.

Publications (

the entire list as a *.pdf file)
[2012]
Romanov M. Dreaming Hanbalites: Dream-Tales in Prosopographical Dictionaries, in - Dreams and Visions in Islamic Societies. Edited by Özgen Felek and Alexander D. Knysh. State University of New York, 2012. P. 31-50.
[2006]
Гиргас В.Ф. Арабско-русский словарь к Корану и хадисам. — СПб.: «Издательство «Диля», 2006. — 928 с. [Переиздание «Словаря к Арабской хрестоматии и Корану» проф. В.Ф.Гиргаса (Казань, 1881); подготовили С.М.Прозоров и М.Г.Романов].
Romanov M. The Term şūfī: Spiritualizing Simple Words // Written Monuments of Orient, 2(5), Autumn-Winter, 2006, p. 149-159.