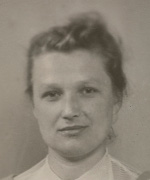 Born on June 9, 1928, in Leningrad. In 1945, was admitted to the Faculty of Oriental Studies, Leningrad State University, the Department of Near Eastern History, and studied Persian there. In 1950, started her doctoral course and, in 1954, defended her PhD Dissertation entitled The English Expansion into the Persian Gulf in the 19th Century [Английская экспансия в Персидском заливе в XIX веке]. She was a disciple of preeminent Russian scholars such as Dr I.P.Petrushevskym Dr A.Y.Yakubovsky and Dr M.S.Ivanov.

In 1954, the Department of Oriental Manuscripta and Documents of the Institute of Oriental Studies that was left in Leningrad after the Institute's headquarters were moved to Moscow was obliged to organize a group to help the Kyrgyzstan Branch of the USSR Academy of Sciences translate sources on the hustory of the Kyrgyz people. N.N.Tumanovich took an active part in this work andwas even enrolled, from 1955 to 1958, as a researcher in the staff of the Institute of History of Kyrgyzstan.

In 1958, she started her carreer at the Lenigrad Branch of the Institute of Oriental Studies (now the IOM RAS). She focused on the academic description of Persian mss kept at the Institute and the edition of works by acad. V.V.Barthold. This work resulted in a few papers on the archives of V.V.Barthold and the unique description of folklore heritage materials from the mss collection of the Institute.

She also devoted several publication to the edition of the memoirs by a noble man from Gerat, Muhammad Riza Barnabadi, compiled in early 19th century. This chronicle covers the history of his family from early 15th century through early 19th century and supplies us with data on feudal society culture and social conditions.

At the same time, she carried on her studies of European policies in the East started at her PhD Dissertation. In 1982, her book on this matter was published. From late 1970s, she started to study the social and economical life of the inhabitants of the city of Gerat, located at the egde of three distinctive cultural areas such as Central Asian, Iranian and Indian areas. She reconstructed also the political history of Gerat province and localize architectural monuments. In 1991, she defended the Habilitation dissertation entitled Gerat from the 16th through 18th Century [Герат в XVI–XVIII вв.]. The last work by Dr N.N.Tumanovich, on one of Gerat's rulers, Shah Rukh, unfortunately, was never completed.

Publications

[1998]

Tumanovich N. An Indian Collection of Persian Folk Tales // Manuscripta Orientalia. Vol. 4, No 1, March 1998. P. 3-8.

[1996]

Tumanovich N. Persian Folklore Materials in the Manuscript Collection of the St. Petersburg Branch of the Institute of Oriental Studies // Manuscripta Orientalia. Vol. 2, No 4, December 1996. P. 48-55.

[1984]

Барнабади, Мухаммад Риза. Тазкире («Памятные записки»). Факсимиле рукописи. Издании текста, перевод с персидского, введение и примечания Н.Н.Туманович. Ответственный редактор Ч.А.Байбурди. М.: Главная редакция восточной литературы издательства «Наука», 1984.

[1981]

Туманович Н.Н. Описание персидских и таджикских рукописей Института востоковедения АН СССР. Выпуск 6. Фольклор (Занимательные рассказы и повести). Ответственный редактор Ч.А.Байбурди. М.: «Наука» ГРВЛ, 1981.