| | | |
| --- | --- | --- |
| Dr. Z.K. Kasyanenko has died | | |
28/12/2016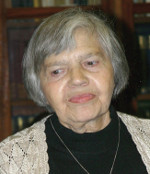 On February 11, 2017, Dr. Zoya K. Kasyanenko, one of the leading Russian Mongolists, a well-known expert in the field of Medeival Mongolian literature and culture, died at the age of 91.
The administration and researchers of the Institute of Oriental Manuscripts, RAS, bewail her death.
The detailed information is available at the Russian version of the web site.
Last Updated ( 22/02/2017 )