On June 16-17, 2010, at the Institute of Oriental Manuscripts, the academic readings in memory of Dr Alexei G. Sazykin (1943—2005) were held. The Kalmykian Institute of Humanities, Elista, was the co-organizer of the readings.

Dr Alexei G. Sazykin was a preeminent St Petersburg Mongolist, a great expert in the Mongolian textology, Mongolian written heritage. During thirty years he researched into the collection of Mongolian mss and block prints kept at the IOM. His catalogue in 3 volumes opened for the study one of the biggest collections of the rich literary heritage of the Mongolian-speaking peoples.

Scholars from both various St Petersburg institutions and the Kalmykian Institute of Humanities took part at the readings. Some presentations were supplied with the show of texts kept at the IOM. The participants could enjoy also the dombra concert by Boskha Kh. Borlykova who played Kalmykian tunes and performed some old and original folk songs.
PHOTOS
Dr V.P. Sanchirov and B.V. Menyayev, researchers at the Kalmykian Institute of Humanities, offer to Prof Dr I.F. Popova, the IOM's Head, the presents from Dr N.G. Ochirova, the Head of the Kalmykian Institute of Humanities, a painting and books for the academic library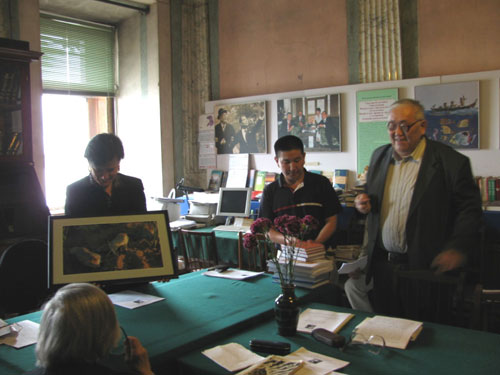 Prof Dr S.G. Klyashtornyj, the Head of the Department of Central and Southern Asian Studies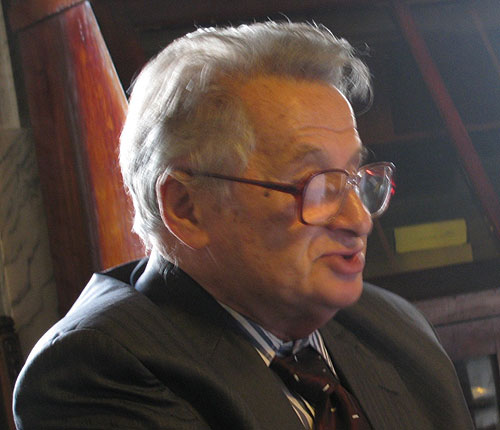 Dr Y.V. Vassilkov, chief researcher at the Peter the Great Museum of Anthropology and Ethnography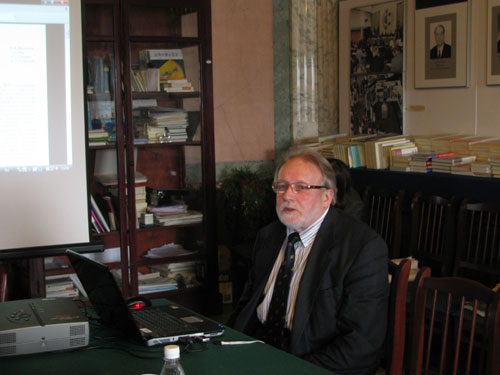 During the readings
During one of the presentations: (left to right) Dr P.O. Rykin, K.V. Alekseev, Dr B.Kh, Borlykova, Dr D.G. Kukeyev, T.Yu. Yevdokimova
Dr O.V. Gorovaya, leading researcher at the State Museum of the History of Religion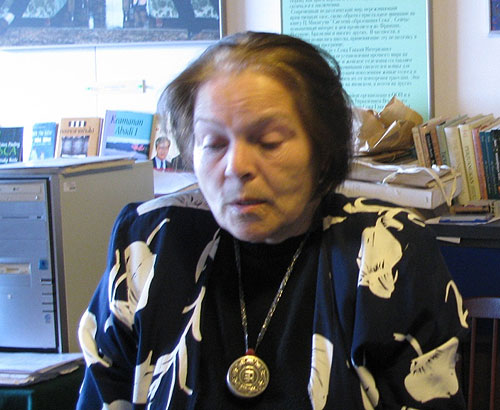 Dr V.P. Sanchirov, leading researcher at the Kalmykian Institute of Humanities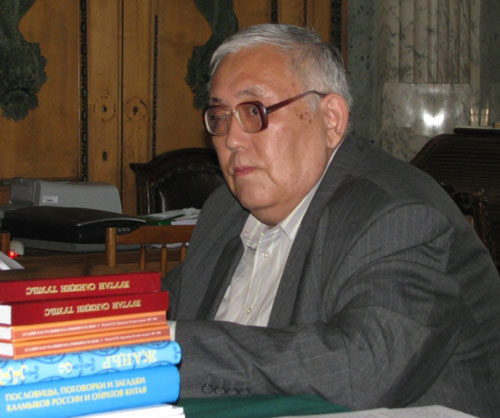 B.V. Menyayev and Dr D.G. Kukeev, researchers at the Kalmykian Institute of Humanities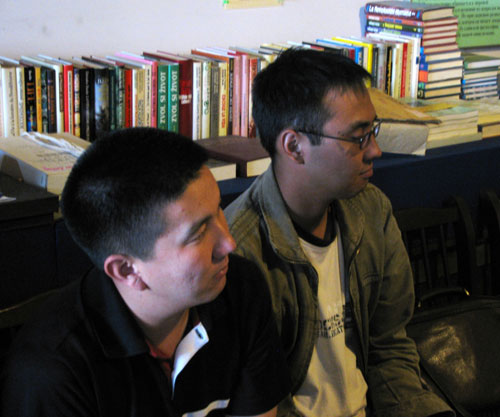 Dr B.Kh. Borlykova, researcher at the Kalmykian Institute of Humanities
Dr T.A. Pang, the Head of the Department of Far Eastern Studies, IOM RAS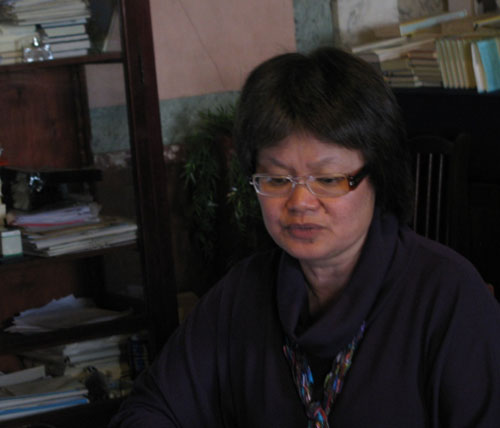 Dr Y.I. Yelikhina, senior researcher at the State Hermitage Museum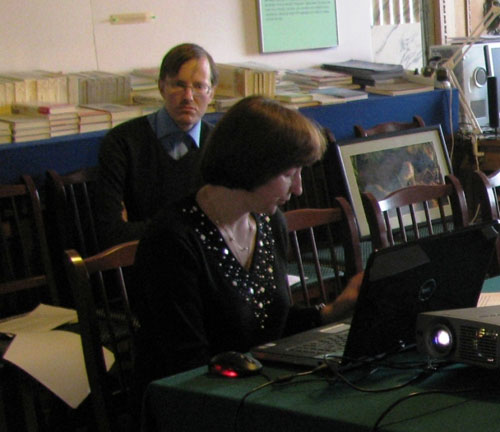 (first row, left to right): Dr V.P. Sanchirov, Dr N.S. Yakhontova, Dr I.V. Kulganek; (second row, left to right): Dr R.Yu. Pochekayev, Dr B.Kh. Borlykova, K.V. Alekseyev, T.Yu. Yevdokimova, D.A. Nosov, B.V. Menyayev, Dr T.V. Yermakova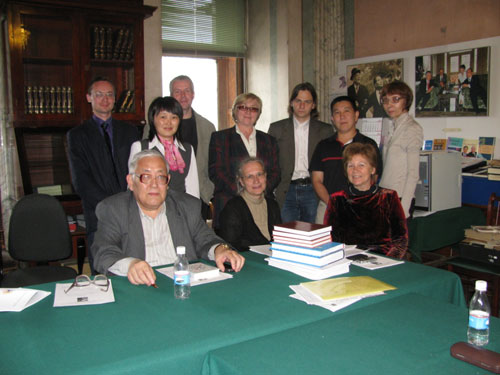 Dr P.O. Rykin, senior researcher at the Institute of Linguistic Studies, RAS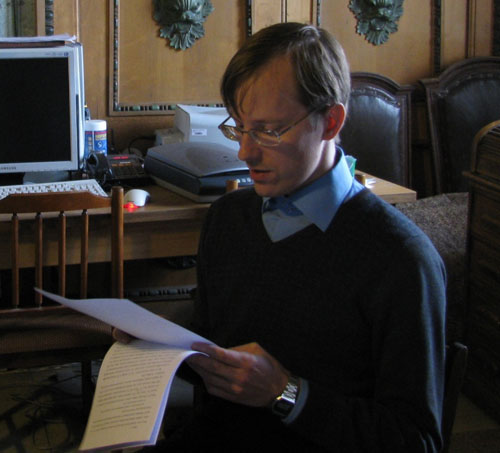 B.V. Menyayev, junior researcher at the Kalmykian Institute of Humanities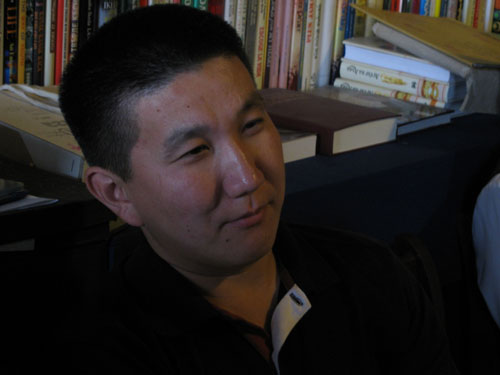 B.Kh. Borlykova plays the Kalmykian dombra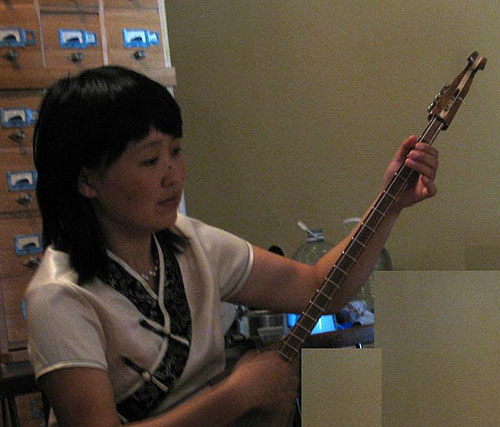 During the concert of B.Kh. Borlykova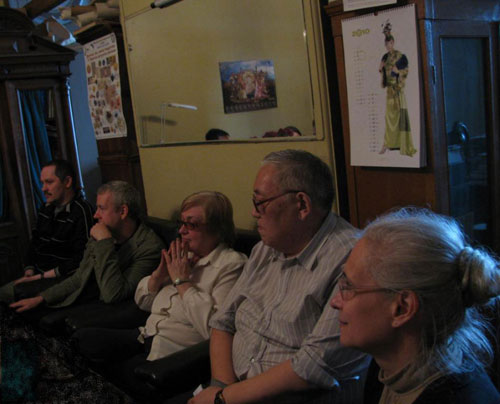 Photos by I.V. Kulganek