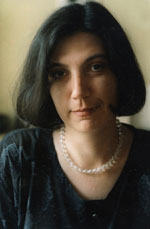 In 1983, graduated from the Leningrad College of Arts named after V.A.Serov (now the Petersburg College of Arts named after N.K.Roerich) as an interior designer.

In 1995, graduated from the St Petersburg State Academic Institute of Fine Arts, Sculpture and Architecture named after I.E.Repin, the Russian Academy of Arts, the Department of Theory and History of Arts, with the project Decorative Ornamental Design of the Muslim Manuscripts from the 16th to 17th Century [Декоративно-орнаментальное оформление мусульманской рукописной книги XVI-XVII вв.].

From 1987 to 1989, a conservator at the Library of the USSR Academy of Sciences; took part in the rectification of the 1988 fire damage.

From 1989 up to present, a conservator at the IOM RAS.

Took part in more than a dozen of conservation projects supported by solid Russian and foreign foundations such as the Foundation of St Petersburg's Revival, Korеa Foundation, Japan Foundation. Some mss restored by L.Kryakina were exhibited at the museums of Russia, Germany, Austria, Switzerland, France, Japan, Taiwan, USA.

In 2000, took a training course at the Tokyo National Research Institute of Cultural Properties, as a part of the international ICCROM project Japanese Paper Conservation.

L.Kryakina regularly makes workshops on Orientalist methods of conservation and preservarion of mss written on paper, she has a few papers on the issues of conservation and history of arts, she is a member of the Petrovsky Society of Historians of Paper and International Dunhuang Project.

Publications

[2015]

Helman-Ważny A., Kriakina L, Zorin A. The First Tibetan Leaves Acquired by the St. Petersburg Academy of Sciences: Conservation Issues, Contents and Paper Analysis // Written Monuments of the Orient, 2. Moscow: Vostochnaya literatura, 2015. P. 61-76.

[2013]

One Hundred And Eight Buddhist Icons Kept At The Institute Of Oriental Manuscripts, RAS [Сто восемь буддийских икон из собрания Института восточных рукописей РАН] / Compiled by A.Zorin, M.Iokhvin, L.Kriakina. Ed. by A.Zorin. Consultant A.Terentyev. St Petersburg, Peterburgskoe Vostokovedenie Publishers, 2013. 240 p.