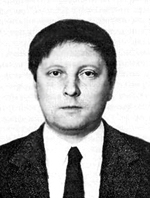 Born on February 18, 1933, in Pyatigorsk. In 1937, his parents were oppressed by the Stalinists so he had to live in the orphanage, then he was adopted.

In 1957, he graduated from Leningrad State University, the Department of Oriental Studies. In the same year, he started to work at the Leningrad Branch of the Institute of Oriental Studies as an assistant of Acad. V.V. Struve, his task being to compile a card index to the Sumerian texts. In 1959, he started his doctoral course. His ealy papers were on the dynastic history of the 13th Dynasty and the socio-economic history of Egypt during the Middle Kingdom.

In 1965, he defended the PhD Dissertation, later, in 1978, the Habilitation Dissertation. Both of them were on the types of dependent people, hemu, during the Middle Kingdom.

As a leading researcher of the Institute he wrote five monographs, including three albums of Ancient Egyptian artifacts kept at the Museums of the former USSR, and a great number of papers, mostly on socio-economic history and ideology of Ancient Egypt. These papers show his excellent expertize of sources, thanks to which he ranks as one of the most important Egyptologists of the second half of the 20th century.



Publications

[1982]

Hodjash S., Berlev O. The Egyptian Reliefs and Stelae in the Pushkin Museum of Fine Arts, Moscow. Aurora Art Publishers. Leningrad, 1982.

[1972]

Азиатский музей - Ленинградское отделение Института востоковедения АН СССР / Редакционная коллегия: А.П.Базиянц, Д.Е.Бертельс (отв. секретарь), Б.Г.Гафуров, А.Н.Кононов (председатель), Е.И.Кычанов, И.М.Оранский, Ю.А.Петросян, Э.Н.Тёмкин, О.Л.Фишман, А.Б.Халидов, И.Ш.Шифман. М.: «Наука», 1972.