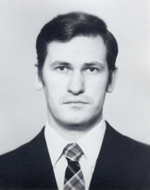 Born on March 19, 1949, in Vyborg, Leningrad District.

In 1976, graduated from St Petersburg State University, the Faculty of Oriental Studies, the Department of Far Easterb Countries, the Section of the Hisory of Japan. In 1986< completed his doctoral course at the Leninhrad Branch of the Institute of Oriental Studies and started to work there as a researcher. From 1987 up to late 2009, worked at Leningrad/St Petersburg University. From 2010, a senior researcher; from 2021, a leading researcher at the IOM RAS.

Major research interests: the history of Mediaeval Japan, especially Ashikaga Shogunate, Jyodo Shinsyu Buddhist school, the Doctrine of Rennyo. Published more than 20 papers on these issues.

Dr Y.Klimov was several times invited to give lectures at various Japanese universities.

Publications

[1993]

Буддизм в переводах. Выпуск 2 / Перевод Е.А.Торчинова, М.Е.Ермакова, В.И.Рудого, Е.П.Островской, Е.А.Островской-младшей, Т.В.Ермаковой, О.С.Сорокиной, К.Ю.Солонина, А.М.Кабанова, А.С.Мартынова, И.С.Гуревич, К.В.Алексеева, В.Л.Успенского, В.Ю.Климова, Е.А.Западовой. Редактор-составитель Е.А.Торчинов. СПб.: «Андреев и сыновья», 1993.