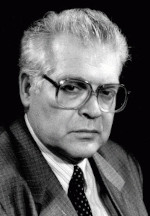 Viktor Grigoryevich Guzev (1939–2021), the most aged professor of the Faculty of Asian and African Studies, St Petersburg University, professor at the department of Turkish philology, has passed away at the age of 82 on December 5, 2021.
Viktor G. Guzev taught and conducted research in the field of Oriental studies for more than 50 years.
In 1957 he enrolled in the Faculty of Oriental Studies of the Leningrad State University, specialized in Turkish philology and graduated in 1962 with honours. In 1962 he began his postgraduate studies at the Department of Turkish philology (Leningrad State University) supervised by Prof. A.N. Kononov. From 1965 to 1973 he worked as a junior researcher at the Leningrad branch of the Institute of Oriental Studies of the USSR Academy of Sciences. He worked at the Leningrad (St Petersburg) State University since 1973.
In 1966 he successfully defended the Candidate of Sciences (PhD) dissertation titled "Phonetics of the Old Anatolian Turkish" [Фонетика староанатолийско-тюркского языка], and in 1986 defended the doctoral dissertation titled "The system of Turkic inflectional categories in the semantic-functional aspect (based on Old Anatolian Turkish materials)" [Система тюркских словоизменительных категорий в функционально-семантическом аспекте (на материале староанатолийско-тюркского языка]. In 1988 he was elected professor and head of the Turkish philology department (until 2013).
Research interests of V.G. Guzev centered on the theory of Turkic grammar. He especially focused on developing a comprehensive system of non-traditional views in order to overcome Indo-European prejudices entrenched in Turkic grammar and to make more precise a number of key linguistic concepts. All main works on the theory of Turkic grammar by V.G. Guzev are characterized by a functional approach to linguistic phenomena. He published 180 scholarly works.
V.G. Guzev has taught a wide range of courses on general linguistics and Turkology. He supervised 7 Candidate of Sciences (PhD) dissertations as well as numerous bachelor and master dissertations. He gave lectures at universities in Central Asia, participated in international conferences in Russia, Europe, and Turkey. He was a member of the Linguistic Society of Turkey since 2000. He received the Order of the State of Republic of Turkey in 2008 for research and teaching in the field of Turkology.
As an outstanding researcher and teacher V.G. Guzev was highly respected by colleagues and students. He will always be warmly remembered.
Source: website of the Faculty of Asian and African Studies, St Petersburg University