| | | |
| --- | --- | --- |
| Dr. B.G. Doronin has died | | |
11/01/2021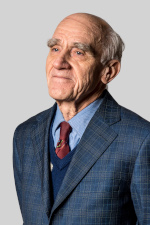 On January 9, 2021, Prof. Dr. Boris G. Doronin has died at the age of 92.
Boris Grigorievich Doronin was born on July 20, 1928, in Leningrad. In 1952, he graduated from Leningrad State University and started his doctoral course. From 1956 to 1968 he worked in the Library of the Academy of Sciences of the USSR. In January 1968 he joined the Department of History of the Far East Countries of the faculty of Oriental studies of the Leningrad State University and worked there for 52 years.
He contibuted much to many fields of Chinese studies but his major research interests were in the history and culture of the Qing dynasty (1644-1912). He is an author of more than 150 publications.
The administration and researchers of the Institute of Oriental Manuscripts, RAS, bewail his death.
Last Updated ( 17/01/2021 )