| | | |
| --- | --- | --- |
| Dr. O.G. Bolshakov has died | | |
24/04/2020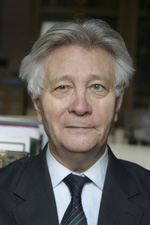 On April 20, 2020, Prof. Dr. Oleg G. Bolshakov, a renowned Russian expert in the history of Arabic countries, honoured researcher of the Russian Federation, has died after a short-term illness at the age of 91.
He contibuted much to many fields of Arabic studies but his major research interests were in the socio-economic relations in early medieval Near East and the history of early Islam.
The administration and researchers of the Institute of Oriental Manuscripts, RAS, bewail his death.
The detailed information is available at the Russian version of the web site.
Last Updated ( 26/04/2020 )