26/05/2013
On May 24, 2013, Prof. Dr. E.I. Kychanov died.

On May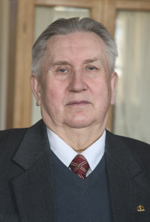 24, 2013, Prof. Dr. Evgeny I. Kychanov died.
He was born on June 22, 1932, in Saparul, Udmurt Republic, the USSR. In 1955, he graduated from Leningrad State University and started his doctoral course at the then Leningrad Branch of the Institute of Oriental Studies (now the Institute of Oriental Manuscripts). Up to the latest days of his life he worked at the Institute, for a long time (1965-96) he was the deputy director of the Branch, then headed it for seven years.

He contibuted much to many fields of Central Asian studies but his major research interests were in the history and culture of the Tangut State (Xi Xia; 982-1227). The most important works include The Account of the History of the Tangut State, translation of Tangut aphorisms, translation and study of the Tangut Law Code of the 12th century The Revised and Newly Endorsed Code for the Designation of Reign 'Celestial Prosperity' (1149-69) [Измененный и заново утвержденный кодекс девиза царствования Небесное процветание (1149-1169)], and the Tangut-Russian-Chinese dictionary.

He was an Honored Member of the the Csoma de Körös Society of Hungarian Orientalists, Honored Professor of Ningxia University and Lanzhou University, Honored Member of the Centre for the Study of Xi Xia at the Academy of Social Sciences of the CPR. For many years, he gave lectures on various special courses at Leningrad/St Petersburg University (Professor from 1986). He supervised about 20 PhD Dissertations.