On January 28, 2013, at the meeting of the year of the Academic Council of the IOM RAS, the celebration of the glorious Jubilee of Dr Margarita I. Vorobyova-Desyatovskaya, the Head of the Section of South Asian Studies, took place. She started the meeting with an account of life and academic activities of Acad. S.F. Oldenburg. Then her colleagues from the Section of South Asian Studies submitted their speeches.
Dr T. Ermakova outlined the contribution of Dr M. Vorobyova-Desyatovskaya to the study of Buddhist manuscripts.
Dr S. Burmistrov told about the Sanskrit manuscripts of some Vedanta texts kept at the IOM RAS.
I. Katkova focused on the 54 letters of the Dutch East India Company purchased by Acad. N.P. Likhachev in 1910
Dr V. Ivanov told about the origins of Buddhist Tantra and its spread through Central Asian area.
Abstracts of the speeches are available at the Russian version.
After the meeting of the Academic Council was over a valedictory tea party was organized at the Section of South Asian Studies at which the congratulatory address prepared by L. Kriakina and V. Melentsevich (design), Dr T. Ermakova and Dr S. Burmistrov (text) was offered.
PHOTOS
Young Margarita I. Vorobyova-Desyatovskaya at the restoration workshop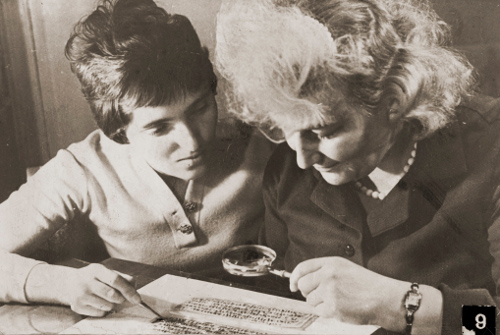 Dr M. Vorobyova-Desyatovskaya submits her speech about Acad. S. Oldenburg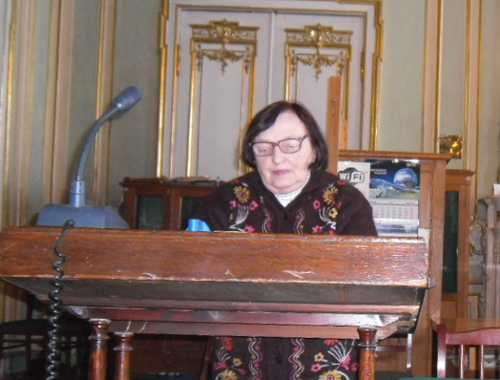 Dr V. Ivanov submits his speech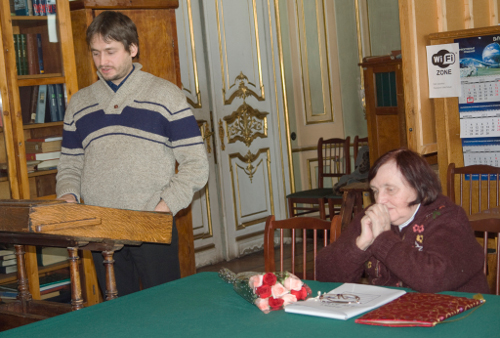 Dr S. Burmistrov, Dr M. Vorobyova-Desyatovskaya, I. Volkova, Dr S. Marakhonova at the Section of South Asian Studies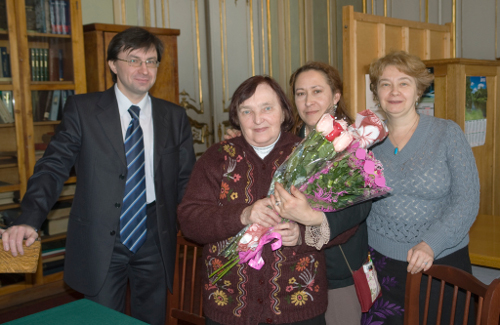 The Congratulary Address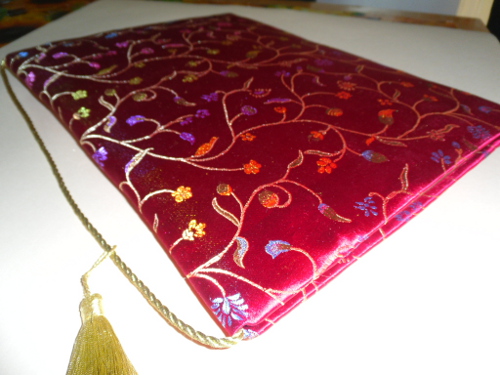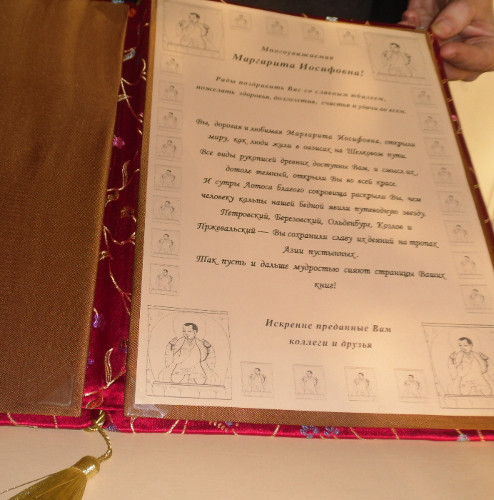 Photos by S. Shevelchinskaya