On December 10, 2011, Prof Dr Yury A. Petrosyan, who headed the Leningrad/St Petersburg Branch of the Institute of Oriental Studies for many years, died of a severe disease he fought over a long time.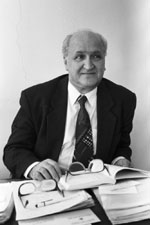 He graduated the Faculty of Oriental Studies of Leningrad State University in 1952. Although being a young scholar, he joined immediately the circle of his colleagues Turkologists. He was noticed by Acad. J.A.Orbeli, the then patriarch of the Leningrad Orientalists. So Orbeli took him as his assistant to the Leningrad Branch of the Institute of Oriental Studies when it was founded, in 1956. Dr Y. Petrosyan carried out all his tasks with true enthusiasm that attracted to him even those who had not known him personally. He was always in a good shape, well-dressed, smiling and friendly. He was lucky enough to have great friends and, especially, academic teachers to whose memory he was devoted until the very last days of his life. During many years, he kept portraits of Joseph A. Orbeli and Andrei N. Kononov on the fireplace at his office when he himself was the director of the Institute's Branch.
The latter thing is important to be emphasized because the head of any academic institution is a special profession. One has to be able to understand people, evaluate academic talents of the colleagues, help them at work and create the comfortable conditions for the scholars. Hence, personal enchantment is a necessary part of this profession. It is also important that one should not be less successive than his colleagues as a scholar. Dr Y. Petrosyan was a great researcher who founded a special branch of the Russian Oriental studies such as Osmanic Studies, dealing with the new history of Turkey. The branch brought about some excellent academic achievements, appraised both in Russia and worldwide.
His own trips to foreign countries allowed him to spend much time in archives and libraries and gather rich materials on history of the Young Turks movement. Thanks to this, we have now an academic study of this movement and bright portraits of its leaders.
More than 60 papers including books on the history of some Turkish cities are a significant contribution to the study of new Turkish history. He had elegant style as an author and could describe the places he visited in vivid and memorable colors.
We lost a bright scholar, talented organizer of academic process, remarked with many awards of the USSR Academy of Sciences, the honored academician of the Russian Federation.